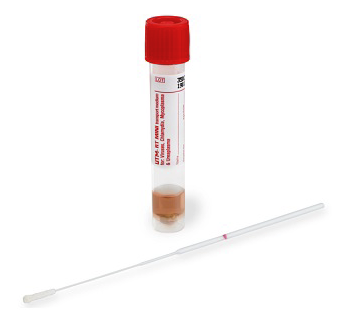 The UCSF Clinical Laboratories is proud to offer COVID-19 RNA testing to institutional partners (both clinical and research) throughout California, including free testing for all California Departments of Public Health. If you are interested in sending samples to UCSF for COVID-19 RNA testing, please contact our outreach coordinator at C[email protected] to establish an account.
General collection information can be found below and further details are in our online test menu.
Background information on COVID-19 testing (both RT-PCR and serology) can be found in our COVID-19 testing reference document.
Collection:
The preferred sample for COVID-19 (SARS-CoV-2) is a combined oropharyngeal (OP) plus either nasopharyngeal (NP) or mid-turbinate nares specimen. Specimens can be collected from both sites with a single NP flocked swab, OP flocked swab or OP synthetic swab.  If a combined nasal/OP specimen cannot be obtained, a single site (NP or OP) sample is acceptable. Self-collected bilateral anteiror nares collections are also acceptable provided they are directly witnessed by a healthcare provider in a clinical setting.
Please do not use calcium alginate swabs or swabs with wooden shafts.
While 1-3mL VTM/UTM is the preferred transport media, the following alternatives are acceptable:
Eswab (Liquid Amies)

M4

Bartels Fextrans

Aptima Multitest and Direct Load

Abbott Multi-collect

Labs can create their own viral transport media.

Dry swab in sterile saline (NOTE: Phosphate buffered saline (PBS) is not accetable for testing at UCSF).

Supplies: (see below)

Storage: Up to 72 hours at 4

℃

, or frozen for longer storage.

Starswab

DNA/RNA Shield (1x)
Supplies:
Nasopharyngeal swabs:
Hologic PRD-06952 Direct Load Capture Cap Collection Kit - FLOQSwabs

Puritan: 25-3316-H, 25-3316-U, 25-3317-H, 25-3317-U, 25-3318-H, 25-3318-U, 25-3319-H, 25-3319-U, 25-3320-H, 25-3320-U, 25-3320-H EMB 80, 25-3320-U EMB 80, 25-3320-H EMB 100, 25-3320-U EMB 100, 25-1406 1PF 50ff, 25-800 1PD 50**, and 25-800 1PD ALUM 50**

Copan: 503CS01, 518CS01, 501CS01, and 502CS01

BD: 220252 and 220251

DHI/Quidel: 503CS01.DHI

Fisher Healthcare : 23600952, 23600956 and 23600950
Oropharyngeal swabs:
Puritan: 25-1506 1PF SOLIDf, 25-1506 1PF 100f, 25-3206-H, 25-3206-U, 25-3706-H, 25-806 1PD** and 25-806 1PD BT**

Copan: 502CS01, 519CS01, 164KS01** and 175KS01**

BD: 220250

Fisher Healthcare: 23600950, 23600957 and 1490650**
Mid-Turbinate swabs:
Hologic PRD-06952 Direct Load Capture Cap Collection Kit - FLOQSwabs

Copan: 56380CS01, 56750CS01, 56780CS01
Anteriror Nares swabs:
Puritan: 25-3206-H, 25-3206-U, 25-3706-H, 25-1506 1PF 100f , 25-1506 1PF solid f, 25-1506 1PF BTf, 25-1506 1PF TT MCf, 25-1506 2PF BT f, 25-1406 1PF BT***f

Copan: 502CS01, 519CS01

BD: 220144f, 220145 f, 220250
DHI/Quidel: 20103f

Fisher Healthcare: 23600950, 23600957
f Foam swab
** Polyester swab
Collection kits including transport media:
Copan: 305C, 307C, 360C and 519CS01*

Puritan: UT-367, UT-317, UT-302*, UT-366** and UT-300***

Hardy/Healthlink: 330CHL

BD: 220526, 220527, 220528*, 220529, 220531

DHI/Quidel: 330C***

Fisher Healthcare: 23001718, 23600952, 23600956, 23600950 and 23600957*

PrimeStore MTM: LH-1-02 and LH-1-03***
* flocked oropharyngeal swab
** Polyester swab
*** no swab
Transport vials with normal saline:
ThermoFisher: R064430, R064432, R064434, R064436 and R064438

Hardy/Healthlink: D185, K248, R45 and R55

Edge Biologicals: T-0625 and T-0110f